The Donald Keene Prize for the Promotion of Japanese Culture
The Donald Keene Prize for the Promotion of Japanese Culture recognizes individuals and organizations that have made significant contributions toward expanding awareness of Japanese culture in the world at large.
Reflecting Donald Keene's ongoing legacy of introducing Japanese culture to new international audiences, the prize acknowledges work that has enriched the appreciation of Japanese culture beyond Japan's own borders.
The Donald Keene Prize honors Japanese culture in all its forms, both traditional and contemporary, and this diversity is recognized in the selection of Prize recipients.
The Prize was established in 2006 to mark the Twentieth Anniversary of the founding of the Donald Keene Center of Japanese Culture.
2010
The Fourth Donald Keene Prize for the Promotion of Japanese Culture will be awarded to Impressions, the journal of the Japanese Art Society of America (JASA). Julia Meech, Editor of Impressions, and Joan D. Baekeland, President of JASA, will accept the award on April 14, 2010.
Impressions, journal of the Japanese Art Society of America
Impressions is the premier English-language journal on the arts of Japan. Peer-reviewed, Impressions publishes original contributions from the international community of specialists for an audience of scholars, research libraries, and connoisseurs. Under the guidance of Julia Meech, Editor since 2001, the journal has expanded to introduce Japanese art and culture of all periods, biographies and obituaries of crucial figures in the Japanese art world, memoirs, and review articles of selected exhibitions and publications. Recent essays include Alicia Volk, "Yorozu Tetsugorō and Taishō Prints" (2004); Ellis Tinios, "The Fragrance of Female Immortals: Celebrity Endorsement from the Afterlife" (2005–2006); Rand Castile, "Remembering the Japan Society" (2006–2007); D. Max Moerman, "Dying Like the Buddha: Intervisuality and the Cultic Image" (2007–2008); and Melinda Takeuchi, "Ephemera for Insiders" (2007–2008). Impressions 30 (2009), a book-length 216-page full-color publication, is a special issue inspired by a symposium at Columbia University in honor of Professor Henry Smith. Translations of a selection of articles are published in the Japanese journal Bijutsu Forum 21, vol. 20 (2009).
The Japanese Art Society of America (JASA) was founded in 1973 by a small group of ukiyo-e print collectors in and around New York City. Programs for members and the public remain the society's focus. In 2009 members joined in a Japanese tea gathering in the Japanese teahouse at Kykuit, the Rockefeller estate in Pocantico Hills, New York; visited private and public collections in Sacramento and San Francisco; and toured the Richard Fishbein and Estelle Bender Collection as well as the in-house museum of the Mary Griggs Burke Collection in New York City. Lecture programs in New York have been held at the Japan Society and Institute of Fine Arts of New York University and elsewhere, generally open to the public. In winter 2009–2010, Hans Thomsen of the University of Zűrich spoke on paintings by Jakuchū, and Andrew Watsky of Princeton University on "named" tea ceramics in the Momoyama period. JASA celebrated its 35th anniversary in 2008 with the groundbreaking exhibition presented at Asia Society, New York, Designed for Pleasure: The World of Edo Japan in Prints and Paintings, 1680–1860. The eponymous catalogue is edited by Julia Meech and Jane Oliver, Associate Editor of Impressions, with essays by John Carpenter, Timothy Clark, Julie Nelson Davis, Allen Hockley, Donald Jenkins, David Pollack, Sarah E. Thompson, and David Waterhouse.
The programs and publications of JASA were extraordinarily valuable in the 1970s, when ukiyo-e studies and Edo-period art history had scarcely entered the academic mainstream either in the United States or Japan. The contents of Impressions 1–18 range from detailed biographies of famous print collectors such as Mary Ainsworth to articles on specific artists and topics, including Sumo prints and Shijō surimono. Also included are book reviews by scholars such as Roger Keyes, David Waterhouse, Donald Jenkins, and Matthi Forrer. In 1997, recognizing that Impressions should appear annually as a professionally published academic journal, Peter Dailey, the society president, with the support of Henry Smith, who served as editor from 1997 to 2000, transformed Impressions into a peer-reviewed journal.
Impressions 31 (2010) has provocative articles on nineteenth-century "living dolls" by Kinoshita Naoyuki, Harunobu's transformation of the Eight Views by Haruo Shirane, insider insights on kabuki by Samuel Leiter, and Unkei's world-famous statue of Dainichi by Samuel Morse, among others. For a table of contents of all issues of Impressions, please see the JASA website: www.japaneseartsoc.org.
The Japanese Art Society of America enters its fourth decade under the direction of President Joan D. Baekeland, well known in the New York art world. It is an organization that remains a unique and congenial gathering place — actual or virtual — for collectors, scholars, dealers, and Japanophiles. Today, JASA has nearly 400 members from countries around the world, including Japan.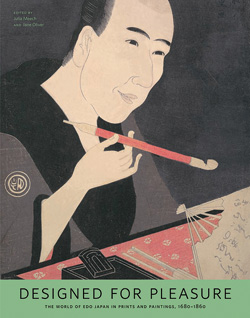 Cover of Designed for Pleasure, 2008
Cover of Impressions 31 (2010)
2008
The Third Donald Keene Prize was awarded to the Saison Foundation on June 3, 2009. Mr. Seiji Tsutsumi accepted the award on behalf of the Saison Foundation at a ceremony held at Academyhills, in Roppongi, Tokyo.
2007
The Second Donald Keene Prize was awarded to the Shincho Foundation for the Promotion of Japanese Literature on April 3, 2007, at the Sen Lecture in Low Memorial Library.
2006
Dr. Genshitsu Sen
Through his spirit of internationalism, Dr. Genshitsu Sen had helped spread the culture of tea and its principle of harmony and peace to all parts of the world.  The Fifteenth-Generation Grand Master of the Urasenke Tradition of Tea, Dr. Sen traces his lineage back to Sen no Rikyû, one of the great cultural figures of the sixteenth century.  Dr. Sen's activities over many decades are responsible for expanding awareness of Japan and its rich esthetic and philosophical heritage on every continent. New York  City's cultural landscape is forever enriched by Dr. Sen's presence, whether in the form of the beautiful Uransenke Chanoyu Center on East 69th Street, which engages in various public-outreach and educational  activities, or in the Sen Lecture Series at Columbia, which celebrates its eighteenth  anniversary in 2006.
An Award Ceremony honoring the first recipient of the Donald Keene Prize was held on April 12th, 2005,  in the Rotunda of Low Memorial Library at Columbia University.