2007 Soshitsu Sen XV Distinguished Lecture on Japanese Culture
April 3, 2007 (Tuesday)
Low Memorial Library Rotunda, Columbia University
(116th Street, between Broadway & Amsterdam Avenue)
6:00PM
Speaker: Natsuo Kirino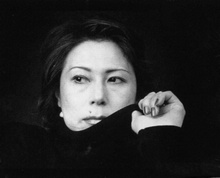 Natsuo Kirino was born in 1951 in Kanazawa, the largest city in Japan's Ishikawa Prefecture. A middle sibling with two brothers, she grew up an active and spirited child. Her father's career as an architect took the family to Sendai, Sapporo, and finally Tokyo, where Kirino has resided since the age of fourteen. Endowed with great curiosity and a unique imagination, Kirino showed glimpses of her talent as a writer from her early years.
After earning a degree in law, Kirino worked in various fields before becoming an author of fiction. She held jobs in the film industry and as a magazine writer and editor. Kirino married her present husband when she was twenty-four, and began writing professionally, after giving birth to a daughter, at age thirty. Her literary debut took place at forty-one. Since that time, Kirino has authored thirteen full-length novels and three volumes of collected short stories. Her works are highly acclaimed for their intriguing plot development and intelligent character portrayals, as well as for the unique perspectives they provide on Japanese society after the collapse of the economic bubble.
Today, Kirino continues to write actively in a range of interesting genres. Her bestselling novel OUT (Kodansha, 1997) has been translated into English and other languages. OUT was nominated for a 2004 Edgar Allan Poe Award for Best Novel by the Mystery Writers of America, making Kirino the first Japanese author to be considered for that important literary distinction. Other works by Kirino are now being translated and published around the world. Kirino's most recent novel in English translation is Grotesque, which appeared from Knopf in March 2007.
Get the flash player here: http://www.adobe.com/flashplayer