2012 Soshitsu Sen XV Distinguished Lecture on Japanese Culture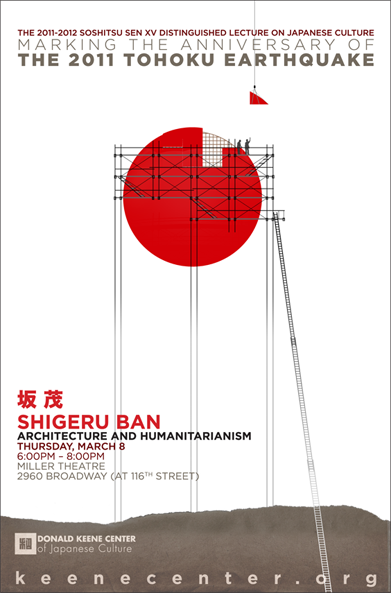 Architecture and Humanitarianism
Speaker: Shigeru Ban
Shigeru Ban is recognized internationally both for his innovative architectural designs and for his sustained efforts to alleviate human suffering through his architectural practice. Ban graduated from Cooper Union in 1984, and established the firm Shigeru Ban Architects in the following year. At am early stage in his career he recognized the potential of paper cylinders for construction: they are expensive, light, versatile, environmentally friendly, and remarkably strong. He has since found creative ways to use these cylinders and other paper products for residential structures, exhibitions spaces, and various other applications.
Ban has made important contributions in the field of emergency relief. From 1995 to 1999 he served as a consultant to the United Nations High Commission for Refugees. In his capacity, he adapted his paper cylinders as support structures for refugee housing in Rwanda. He produced temporary housing after natural disasters in Kobe, Japan, and in Sri Lanka, Turkey, China, and Haiti. More recently he has made use of cargo containers as well as his trademark cylinders to construct emergency relief centers and housing for the victims of the 2011 earthquake and tsunami in northeast Japan.
Ban is currently professor of architecture at Kyoto University of Art and Design. In 2000, he was a visiting fellow at the Donald Keene Center and taught at the School of Architecture at Columbia. He has also been a visiting professor at Cornell and Harvard universities. Ban us the recipient of numerous international prizes and awards, including France's Ordre des Arts et des Lettres (2010) and L'Ordre National du Mérite (2009), the Auguste Perret Prize (2011), and the Thomas Jefferson Medal (UVA) (2005).