Sen lecture 1996
Kobo Abe Commemoration Starts
Columbia University Record -- April 12, 1996 -- Vol. 21, No. 23
The Donald Keene Center of Japanese Culture at Columbia, marking its tenth anniversary, has launched a month-long cultural appreciation of the career of Japanese novelist, dramatist and photographer Kôbô Abé, the first anywhere since his death in 1993.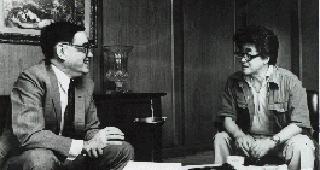 Photograph: Kôbô Abé, right, and Donald Keene in 1979
The commemoration will include a major international symposium at Columbia Apr. 19-21 that will bring together scholars, critics, translators and other specialists as well as friends of Abé and his wife, Machi Abé, a noted set and costume designer. Mrs. Abé died eight months after her husband.
Exhibitions, a concert of music composed for Kôbô Abé's films and dramas, a new production of his play
Friends,
readings and film screenings are planned as part of the tribute to the world-renowned, multitalented visionary whose work gave voice to the alienation and isolation of modern urban life.
Abé, who was 69 at his death, is best known to Americans as the author of the novel
Woman in the Dunes.
He wrote the screenplay for the widely seen film adaptation, which won the Best Film award of the Cannes Film Festival in 1964. Directed by Hiroshi Teshigahara with a musical score by Tôru Takemitsu, it is considered a modern classic of Japanese cinema. Abé was often mentioned as a candidate for the Nobel Prize, and his novels are widely read outside Japan in translations in English and 20 other languages. He wrote more than a dozen plays and often directed his own works as well as Japanese productions of the plays of Harold Pinter, Eugene Ionesco and Samuel Beckett. In the 1970s he directed the Abé Studio, where actors and artists experimented with language, movement and innovative stage techniques.
"Kôbô Abé's greatness transcends national boundaries," said President Rupp. "Columbia is gratified to be the catalyst for this long-awaited retrospective dedicated to informing new generations of his important contributions. This university has a long tradition in Japanese Studies and has benefited from its many distinguished faculty scholars, including our treasured Donald Keene, the leading interpreter of Japanese culture to the West, who has been the guiding hand in planning this commemoration. We also proudly note that Columbia, which awarded Kôbô Abé an honorary doctorate of humane letters in 1975, was the first American university to so recognize a Japanese writer."
The symposium, titled "Kôbô Abé, Maker and Breaker of 20th Century Sensibility," will feature discussions on aspects of his life and writings by scholars from the Czech Republic, Germany, Poland, Mexico, Taiwan, the U.S. and Japan and a reminiscence by Abé's daughter, Neri Mano. Among those scheduled to participate are Richard Peña, program director of the Film Society of Lincoln Center and adjunct associate professor of film at Columbia; novelist Philip Roth; writer Susan Sontag; playwright Arthur Miller; Japanese novelists Taeko Kôno and Tsujii Takashi; Henryk Lipszyc, Ambassador of Poland to Japan; the Taiwanese specialist on Abé, Chung Chao-cheng, and seven actors from the Abé Studio. The sessions, beginning at 9:30 A.M. Fri., Apr. 19, will be held in the Kellogg Conference Center. The conference is free and open to the public. (Call 854-7403 or 854-5036 for further information.)
As part of the commemoration, Columbia will posthumously bestow the honorary degree of doctor of music upon composer Tôru Takemitsu Apr. 18 at a private dinner. It will be accepted by his daughter. Takemitsu, who died of cancer Feb. 20 in Tokyo, had earlier been invited to receive the degree and had planned to attend the Abé appreciation. A concert presenting "Music of Kôbô Abé and his Friends" in the Miller Theatre Apr. 20 at 8:00 P.M. will feature works of four Japanese composers, including Takemitsu and Abé, performed by the music ensemble Continuum (Tickets: 854-7799).
In other commemoration events, the Pan Asian Repertory Theatre will present a new production of Abé's
Friends
beginning Apr. 16 at St. Clement's Theatre, 423 W. 46th St. (Tickets 245-2660). Ron Nakahara is the director and Tisa Chang the artistic director. Lectures and readings from Abé's works will be presented April 16 at 6:30 P.M. by Columbia Professors Keene and Paul Anderer at the Japan Society (Information: 715-1210). New books by and about Kôbô Abé and Donald Keene will be presented at the Japan Society Apr. 19.