2011 Soshitsu Sen XV Distinguished Lecture on Japanese Culture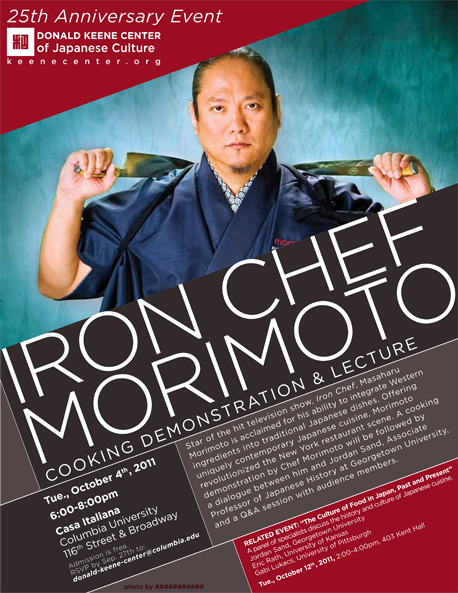 Cooking Demonstration & Lecture
Speaker: Masaharu Morimoto
Chef Masaharu Morimoto has garnered critical and popular acclaim for his seamless integration of Western and Japanese ingredients. He has effectively created a signature cuisine that places him among today's premier chefs. Morimoto is executive chef at six lauded restaurants worldwide.
After an injury ended his promising baseball career, Morimoto began studying sushi and kaiseki in his native Hiroshima. At age 24, he opened his own restaurant and, by 29, sold it and traveled to America. Morimoto was tapped to head the sushi bar and Japanese kitchen at the Sony Club in 1993, before being recruited to open Nobu restaurant as executive chef in 1994.
Morimoto opened Morimoto restaurant in Philadelphia in 2001, Wasabi by Morimoto in Mumbai in 2004, followed by Morimoto –XEX in Tokyo in 2005, which earned one star in Tokyo Michelin Guide. In 2006, he opened the eponymous Morimoto New York, earning a James Beard Foundation Award for "Outstanding Restaurant Design" and many other accolades. In 2010, Morimoto Napa was named one of Food & Wine's Best U.S. Restaurant Openings, and later that year, Morimoto Waikiki also opened to critical acclaim.
Morimoto competes on the Japanese television show Iron Chef and appears on the Food Network's Iron Chef America. In 2007 his first cookbook, Morimoto: The New Art of Japanese Cooking, garnered two IACP awards.