2007-2008 Soshitsu Sen XV Distinguished Lecture on Japanese Culture
In the Light of East Asia: A Reading with Commentary
October 24, 2007 (Wednesday)
6:00 - 7:30PM
Low Memorial Library Rotunda, Columbia University
116th St., between Broadway and Amsterdam Ave.
Speaker: Gary Snyder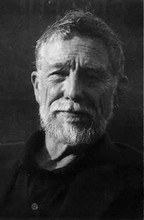 Gary Snyder, one of the most respected voices in contemporary poetry, has throughout a long and distinguished career brought the traditions of Japanese literary and spiritual practice into the heart of American arts and letters. He has published eighteen books and his works have been translated into more than twenty languages. Mr. Snyder is the recipient of numerous awards, including the Pulitzer Prize for Poetry, the Bollingen Prize for Poetry, the John Hay Award for Nature Writing, and he has been recognized by the Japan-based Bukkyô Dendô Kyôkai Foundation for distinctive contributions in linking Zen thought and respect for the natural world across a lifelong body of poetry and prose.
Gary Snyder was born in San Francisco and raised in the Pacific Northwest. His earliest experiences in the natural environment of the region imprint his work and thought to this day. After graduating from Reed College with a degree in literature and anthropology, he became an influential figure—along with Allen Ginsberg and Jack Kerouac—in San Francisco's Beat Movement of the late 1950s. For most of the 1960s Mr. Snyder lived in Japan and studied formally in a Zen monastery, and Zen Buddhism continues to have a powerful impact on his poetic production and his thought. In 1970, he returned to the United States, taking up residence in the Sierra Nevada foothills of Northern California, where he became a founding member of the Ring of Bone zendo for Zen Buddhist practice in the region.
Mr. Snyder's earliest works include Myths and Texts (1960) and Riprap and Cold Mountain Poems (1969). Writings with a more explicitly ecological edge followed, and Mr. Snyder has since been a leading spokesperson—both in public and through his literary work—for the possibilities and necessities of recreating an organic relationship with a natural bioregion. In such publications as The Old Ways (1977) and The Real Work (1980), he has illuminated the intertwining strands of literary form, social responsibility, ethical conduct, and cultural inclusiveness.
Get the flash player here: http://www.adobe.com/flashplayer